There is a huge variety on wallpapers for nursery rooms such as: floral, action figures, geometrical or even landscape wallpapers. Usually the wallpaper is the easiest way to decorate a room and you can practically use it anywhere you like.
In the child's room you need more color, so the wallpaper can be the main attraction for the young child. More and more people are starting to use them, because they are always practical and trendy as well. With good wallpaper on the walls your child will never get bored. For little girls you can find all kind of wallpapers like ones with flowers, hearts, Barbie dolls and even princesses.
For little boys you can use the world known Winnie the Pooh wallpapers or cartoons, robots and different cars.  But don't forget, you need to pick the wallpapers according to the child's age, the bigger he is, the bigger the expectations will be.
Here are some good examples of wallpapers that you could use, I personally selected them from a huge variety worldwide.
This wallpaper with Winnie the Pooh and his friends is perfect for your nursery regardless your new born is a boy or a girl. This is the kind of wallpapers that includes all of your walls, including the ceiling.  It looks so real, that your kid will feel in the center of attention all the time.
Animal wallpapers are highly recommended as they ilustrate wild animals in the savannah.
In a boys room, where blue prevails, a wallpaper with astronauts would be perfect, teaching your boy to have as specialist call it: higher expectations.

Floral wallpaper for our little girl would be perfect with a shade of pink on the background which will encourage our little one to feel like a princess.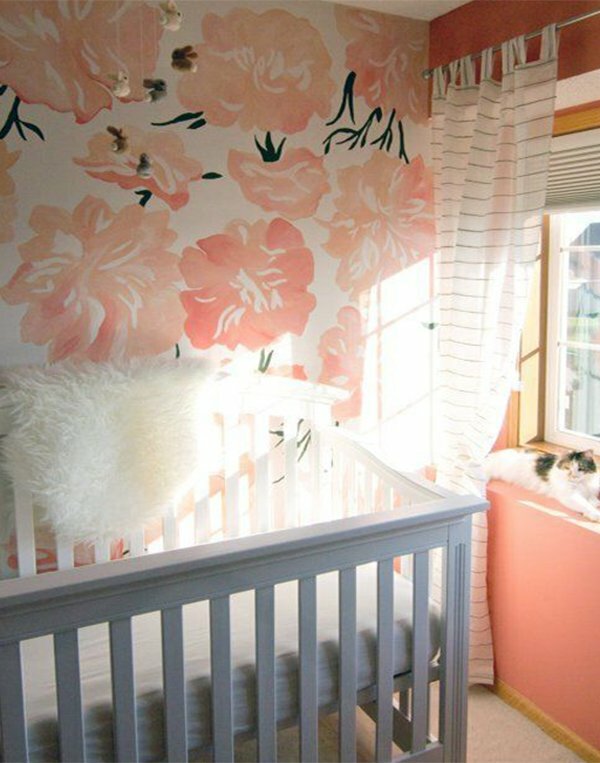 But let's not forget, real princesses have castle wallpaper in their room and a Barbie doll that embodies the little one. This wallpaper will make your daughter fell like a real princess.
Wallpapers with cartoon characters have a special appeal to our new born.  This is a model, full of bright colors keeping your child happy and smiling.
Use this wallpaper full of butterflies. The predominant colors will always get you a fresh scent inside the nursery room and rest assured; your little girl will love it.
These are some examples of wallpapers. I tried to pick the most popular ones, but you can always try other designs as well.  Just keep in mind, first think what you little child would like and try to combine the utility with pleasure.