A big concern for the future mothers is how to pick the perfect background for the nursery room. Keep in mind the following ideas for a perfect room. What pictures would you pick?
Here are some basic advices:
Pick warm colors like pink or blue to decorate the room. These for bringing a high level of coziness for the new borne.
In case the room isn't that rich in natural light, then blue or even beige would be a great and wise choice because it will bring up the idea of more space than you actually have. You should favor the light colors which favors a good calm state. Usually the strongest colors have a sense of high activity and can be quite stressful for the little one. Using bright colors you can create a very cozy room.  Cold colors just like blue or green can make the room less familiar. Other colors like grey or brown are very boring and they are usually considered sad colors. If you have a small place destined for games you can use a harsh color, but keep in mind, don't exaggerate.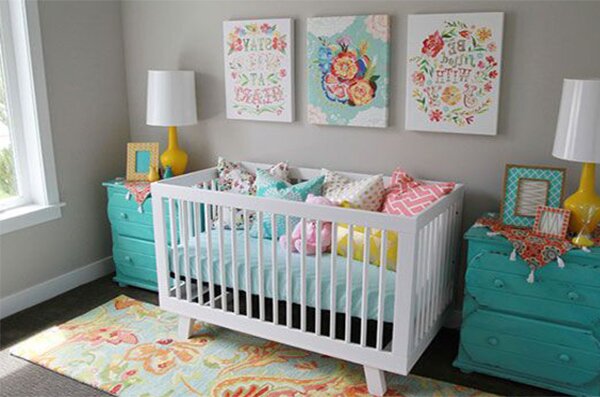 Have you thought of a patterned wall?
In this case it's essential to choose a washable material and you could opt for some scattered prints.  You should try to avoid combinations like flowers near stripes. They are considered to be an explosive combination. A better idea is to paint the walls in different colors and use a colored belt to separate the areas. You can also combine the colors from the two areas with the belt color, the effect will be fabulous.
Photos and notes
Another interesting idea would be to install a metal board on the wall, where you can attach different photos of the new borne or notes of important things from his young life. Why a metal board? Well you can use magnets to attach the photos or notes there. Using a wooden board will automatically involve the usage of metal sharped pins, that can harm the young child and we wouldn't like for that to happen. A big plus is that, usually magnets can be found in various colors and shapes as well.