Every house needs some small changes once in a while. If you don't have enough financial resources to renovate the entire house, well then you should know you can give it a new color without too much money spent.
If your living room is pale in color, and the colors that predominate are beige and cream-colored, then you should give it some live, with some new accessories and some decoration objects in some warm colors.  For example you could buy some new cushions for your sofa or some nice colored stools.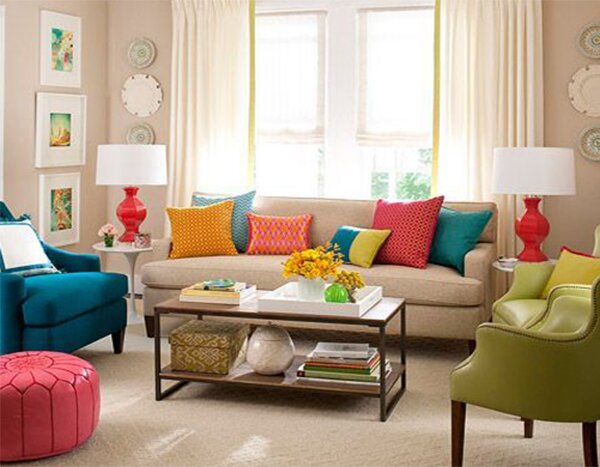 Another good idea, you could get some big white candles, and once in a while you could light them up to unwind the atmosphere.
You could also use some wallpaper to decorate your living-room, but you should also be careful on which model you will pick. It needs to have a nice contrast with the furniture you have there.
Would you like a more romantic living-room? Well then you could use a wallpaper design with big flowers on it, though you need to have enough space to put it. A romantic stile usually brings peace and harmony in the living.
If you have a smaller place, you could use wallpaper with small flowers. In this way it will give the impression of a bigger space that you actually have.
Modern living room
To obtain a modern living room, you could use geometrical wallpaper, in different colors to give the impression of a big living-room. A white sofa and lamp can be useful as well; it will integrate perfectly in the room.
The living room is usually the most used space in a house so you need to pay a very good attention when decorating it. It will be the space reflecting the rest of the house.
Another thing, before redecorating your living room, you need to take into consideration the following things:
What is the destination of the room; will it be the main place where you will hangout with your friends and family?
Think of how would you like for the living room to look in the end?
Establish the main colors of the room.
Pick the furniture according to the space you have
Modern Living Room Photos