Most traditional kitchens come with a sober and all too common backsplash, typically in neutral colors. If you are looking for an alternative to the usual tiled backsplash, here are a few wonderful ideas to spruce up your kitchen, through a fun backsplash.
The chalkboard backsplash : This will allow you to write shopping lists and reminders on your wall for convenience, or add quotes. Alternatively, your children could use this wall to add some drawings, for a family-friendly kitchen.
Lit-up backsplash : Light up your neutral backsplash with brightly colored LED lights, to add a modern touch to your kitchen. You may also go for warm yellow or peach-toned lighting.

Mirrored backsplash : Yet another idea for a modern kitchen, add mirrors along the length of your cabinets to reflect light. This would help to make your kitchen look larger. They can be added in various sizes and patterns.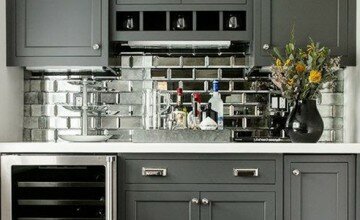 Open backsplash : If you have a beautiful view from your kitchen, why hide it by building walls? Install long horizontal windows as your backsplash, for serene views while you cook.
Artsy backsplash : Be creative with your backsplash. If you have neutral walls, paint designs or pictures of nature, or any abstract design.