The bedroom is the most private place where you belong. So well decorated bedroom increases your motivation.Firstly, you have to decide style of your bedroom decor.Today we focus on the romantic and stylish bedroom design.Whether you're young, old, single or married, romantic bedroom design can make you feel sexy and pampered.
When it comes to romantic bedroom design, Red is The first color that comes to mind.That's true but red is not enough to make it. Little details is too important to create it. Like shiny and soft bedspreads and chic headboards.When you creating romantic bedroom,The lighting is one of the most important things.Lighting should be soft and not come from overhead.
Red Romantic Bedroom Designs
Firstly, I want to start with red romantic bedroom designs .in this designs , red and red shades are used.Let's check these ideas.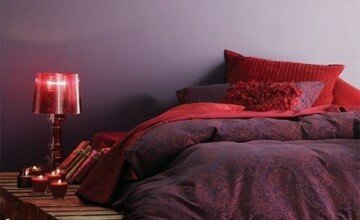 The following design is very romantic but if must be honest i didn't like the picture behind the bed.
The following designs are not red, but I think it looks more romantic and cozy
I love the purple color and it's looking very fit with this design.It's Looks very comfortable