When you see the bathroom styles, you will see that there are thousands of designs to choose from. You can find various such options in the shopping mall, lifestyle magazines, interior magazines, online etc.
Before you start finding out the information on bathroom interior, you should know your state, your family's likings and needs and style in which it is built. The main problem with bathroom style is that a lot of us are not even aware of the various styles and the properties associated with each such design. Thus, lack of such information leads to chaos. One resorts to expensive fittings and accessories, making it difficult to find matching, when you need. There is also situation when certain things are placed at unattractive places. All this is due to lack of information on bathroom style. This can be cured with finding of information about the available bathroom styles.
Choose from amongst the available bathroom styles and make sure that you finalize something, which is functional and practical along with being visually appealing.
There are various styles which can actually make a small place look bigger in size. Contemporary styles look sleek, spacious and open.
Discuss the various designs available, look at the space and then check, which suits your bathroom, the best.
For the bathroom style, there are mainly the following styles available.
Contemporary style: This is the minimalist style known to be highly consistent. It has a clean and uncluttered look. It has a sleek design with straight line and plain interior. It is well suited for homes with modern homes and has it emphasis on textures, lighting and sharp edge design.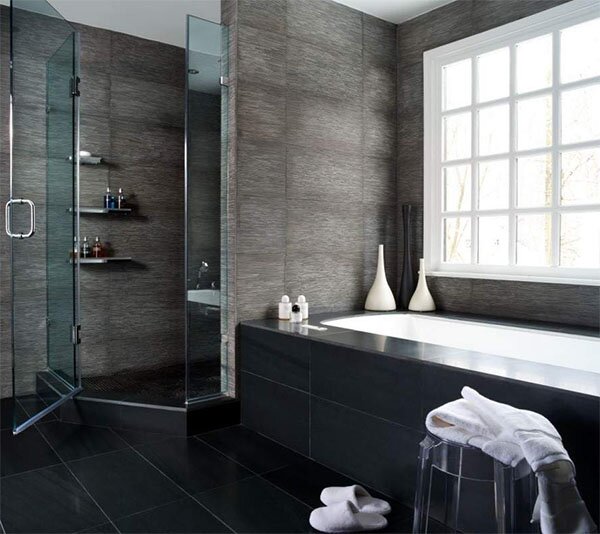 Make use of neutral and common use colors like white, black, cream and grey. If one wants to accentuate the room then use highlights and paintings.
Country style: These bathroom styles give a great impression. They do not need a lot of investments and changes the whole look with key country elements like wooden peg holders as hand towels, claw foot tubs, wooden framed mirrors etc.  To add colors, add products and accessories of different colors if you want.
Traditional style: The most complex and elegant of the bathroom style, it is graceful and gives a warm look. They combine the feel of ornament and jewels and the set up is all dependent on use of lighting and colors. One feels awestruck with these settings.
Bathroom Designs