Firstly, a good kitchen should be a place arranged in a way which you can work comfortably, has no ventilation problems, receive sunlight and have good lighting, have opportunities that can be cleaned quickly and comply with health rules.
And also the location of the kitchen should be cool enough during summer season and warm enough during winter season to work comfortably.
Lighting must be good. Since you will was pots, pans, plates, cups all day and the lighting should be good enough to check whether the things you wash will be clear or not. If the kitchen receives enough light it will be easy for you. However if it is a dark kitchen by getting not enough sunlight a chandelier hung from the center of the ceiling will suffice. You can also place tiny lights to the edges of the sink.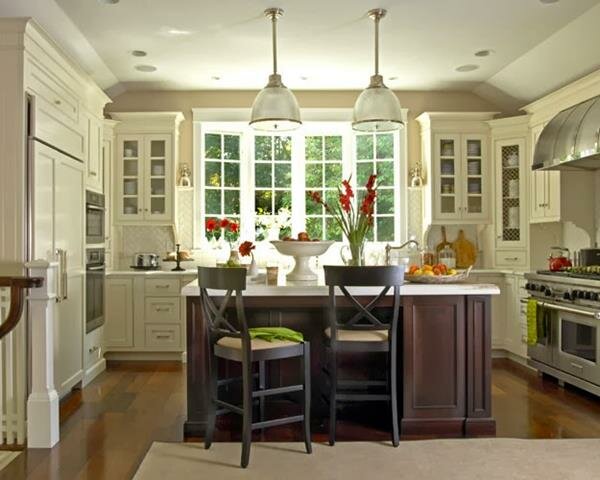 Definitely have a range hood so that you will not bother with the smoke and smell.
Kitchen cabinets should contact the floor directly and cleaning of them must be arranged to be easy.
If you have a small kitchen cabinets starting from floor to ceiling will be more useful.
If you want a simple design you can prefer more sharp and unadorned kitchen cabinets, brighter surfaces, spot lights, geometric or line patterns.
It will provide a more modern if you use mirror-like shiny tiles on the over the counter or floors.
Modern-style wooden kitchen cabinets are among widely preferred ones too. White would be a very appropriate decision for our ladies who are undecided about color and glossy surfaces lovers. It will look both larger and clearer.