You can make calm and relaxing atmosphere in bathroom with blue white bathrooms. Blue and white colours are frequently used in bathrooms, but with a few tips these two colours could become spectacular.
Blue white bathrooms create a therapy area that calms and relaxes a person after a tiring day. Combining the colours blue which reminds one of the ocean and sky with white is one of the greatest ideas in bathroom decorations. Anyhow when decorating with blue and white you must be careful in the tone of the blue that you use, you wouldn't want your bathroom looking like a nursery; you may use a few tones of blue to avoid this, you can create a more striking look by using a few tones of blue together.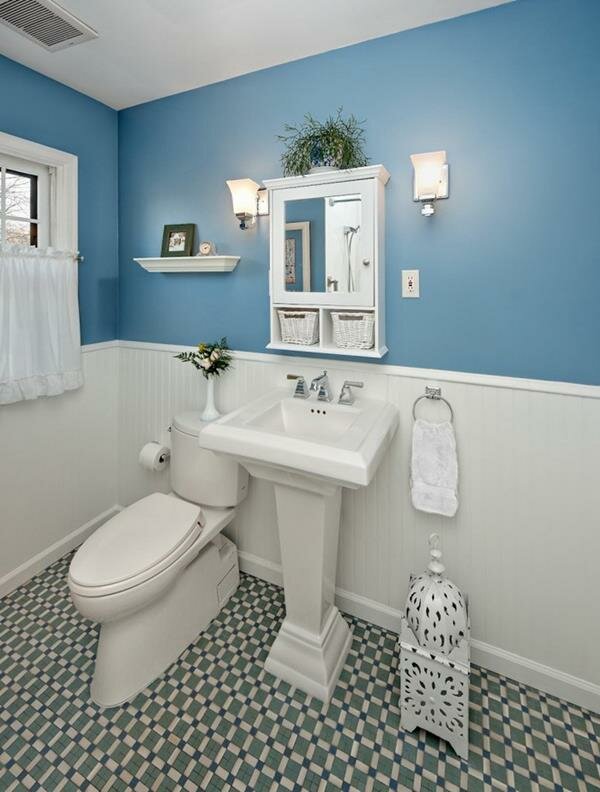 In blue white bathrooms you can play around with the light and the depth of the room; you can use white for the areas you white to lighten up and use tones of blue for the areas that you wish to put depth into. Using white verifiers along with blue would give a striking look.
You can use white and blue colours in bathrooms whether you wish to decorate it in a modern or traditional style. Using the blue and white colours for small bathrooms would be a right decision. You can use light blue tones along with white, this would make your small bathroom look bigger, and to add a luxurious look you can place a stylish mirror with a shiny white or silver frame which would make your bathroom look amazing.
Blue and White Bathroom Decorations
We place a few examples of blue white bathrooms to give you an idea for decorating your own bathroom, the blue white bathrooms await you which you can use for ideas for your own bathrooms.